Introspection
Through
Movement
Sutras in Motion : Ashtanga Yoga through the lens of Philosophy
Open invitation to anyone interested in learning how to levitate in lotus pose and elevate every aspect of their lives to join us on a long-term yoga journey with like-minded curious seekers and experience a profound shift in flexibility, inner stability and strength.

Through a well organized and progressive curriculum, learn Ashtanga Vinyasa Yoga from the Source with Sushmitha and drastically change your relationship to practice in a way you have (probably) never experienced before.

Come intrigued, leave integrated. 🙏
Details
✅ 12 Live Yoga Classes/month
✅ Progressive personalized sequences
✅ Journaling exercises for reflection
✅ 10 Mini-lectures on Yoga Philosophy
✅ Breathwork, Strength Work and Mobility drills
MIND
BODY
SPIRIT
Curriculum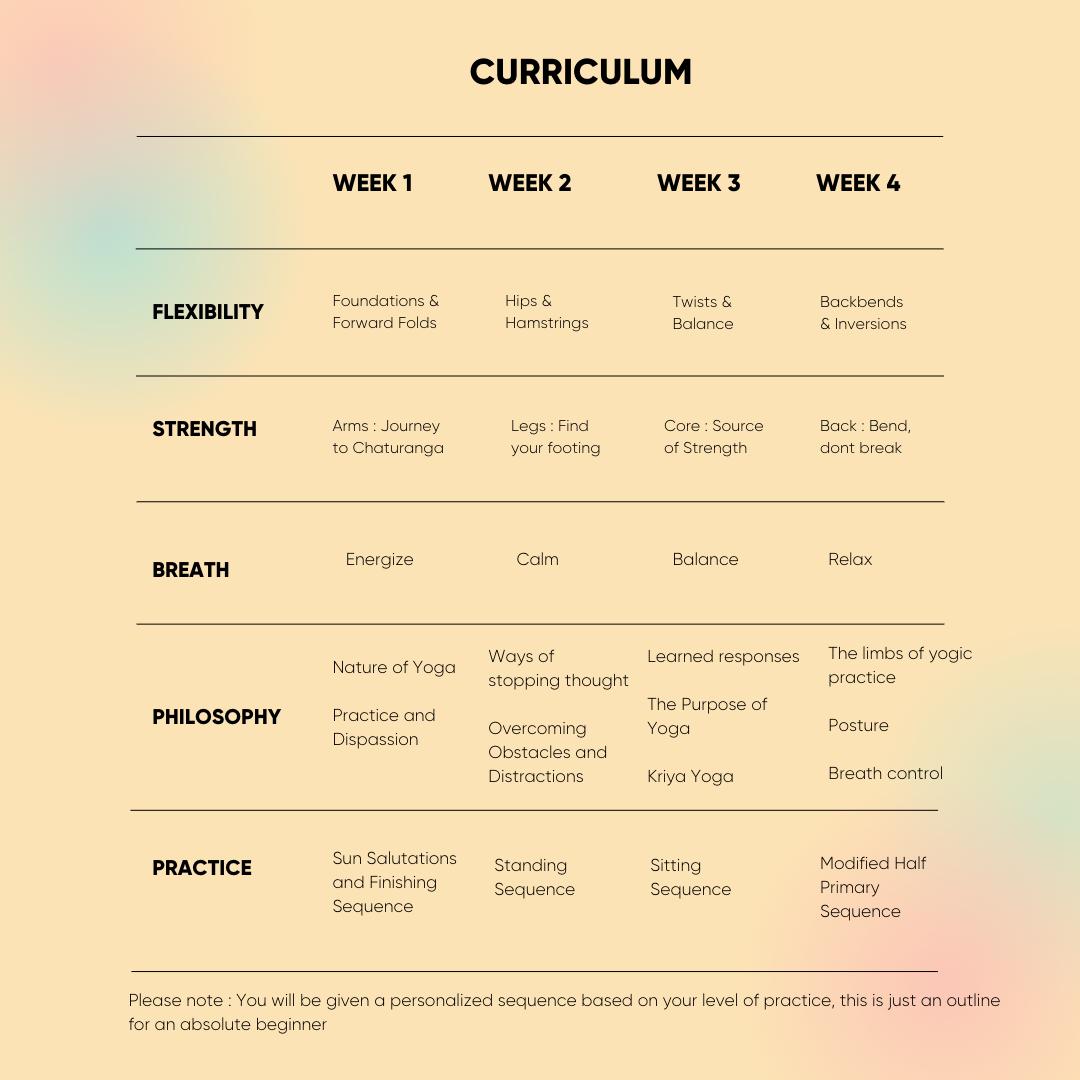 Concepts covered
in this course
How it works
📅 ROLLING ADMISSIONS, JOIN ANYTIME
⏰ TIME ZONES
INDIA : 10:30 AM
UK : 5:00 AM
South Africa : 7:00 AM
Kenya : 8:00 AM
France : 6:00 AM
Sydney : 4:00 PM
Chicago : 11:00 PM
📋 12 live training sessions each month
Each week, you'll have to attend 3 live sessions on Zoom Add on : Weekly 1:1 session
Session 1 : Breathwork, Mobility work and Strength Drills
Session 2 : Mysore Style (1:1 class in a group setting)
Session 3 : Beats driven led class
👥 CAPACITY: 8 students for personalized attention
🧑🏻‍🤝‍🧑🏾 GROUP CLASSES ONLY $59 (₹4,820)
🪷 GROUP CLASSES + ONE WEEKLY PRIVATE SESSION $145 (₹12,000)
Can't afford it? Refer a friend and get 10$ off for each friend who joins!
What results
can you expect?
Here are the 6 most common results from our students
📏
It's brought so much order and discipline into my entire life
🥕
I eat and sleep much better now, and feel more energetic at work
🧘‍♀️
I've become more patient, and this has improved my relationships
📝
The philosophy has helped me understand myself better and be more reflective than reflexive
💪
I feel much stronger in just 30 days, I feel more confident in my body
💃
It gave me the confidence to try out new things more often
Yoga changes you and you change your life
Still having second thoughts?
Chat with me